Monday, February 16, 2009
Orange County punk - Moral Threat
In northern Orange County the kids were just as detached but seemingly less priviledged or spoiled, though. Areas like Placentia, Buena Park and Fullerton were downright depressing and consisted of an endless landscape of strip malls and suburbs, high schools and cops. It was in late 1978 that 16 year old Mike Ness from Fullerton decided to form the first incarnation of Social Distortion.
Mike Ness was a known character in OC. Living in the low-rider, ghetto area of Fullerton, Ness stuck out as one of the early progenitors of "punk". In fedora and eye make-up, Ness never backed down from a fight. He also began a Heroin habit that would plague him for the next ten years.
Mascara lesson!
Ness eventually moved into an apartment in Fullerton were the local "punks" came to congregate. It was know simply as "The Black Hole" and the Adolescents immortalized it on their 1980 self-titled album. Social Distortion would later do "Playpen" in honor of the hangout.
The first Social Distortion lineup was with Casey Royer and Rikk Agnew, both 19 and friends of Ness' who played in the La Habra based outfit The Detours. Agnew would play lead guitar and Royer the drums. Rikk's brother Frank (not pictured) age 14, was brought in on bass.
Casey Royer
Rikk Agnew
It didn't last -- Agnew was constantly in and out of the band and unreliable. Royer left after Ness brought in high school chum Dennis Dannell to take Agnew's place. Dannell had never played an instrument and Casey and Frank didn't feel like waiting for him to learn.
Robbie Fields of Posh Boy records liked what he heard and recorded 'Moral Threat' with Dennis Dannell on Bass and a drummer named Carrot. The trio did 6 songs for Robbie Fields and Posh Boy in April 1981 including the above mentioned Playpen as well as 1945, Mainliner, All the Answers and Justice for All. Social D. were now alongside contemporaries such as TSOL, Shattered Faith, The Crowd and Channel 3. Carrot was replaced later that year by Derek O'Brien on drums.
1982. Solo in his room, a young Ness composes
Another State of Mind.
The final 'Original' lineup of Social Distortion circa 1981 -- Brent Liles- bass, the often overlooked Derek O'Brien - drums, Mike Ness, and Dennis Dannell on rhythm guitar and vocals.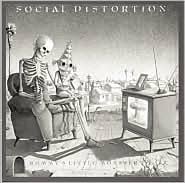 The first LP, Mommy's Little Monster, 1983. By far their best album, sorry Butterheads!
Winnipeg, 1982
Mommy's Little Monster.
Social Distortion rehearses in Fullerton 1983.
Under My Thumb / 1945.
The Creeps, It's the Law and
Moral Threat.
In 1987 - after numerous stints in county jail and detoxes, a sober Ness reformed Social Distortion and took them in a more country & western or "Cowpunk" direction. They are seemingly more popular now then when they were labeled "punk".
In 2000 Dennis Dannell died of a brain Anuerysm at age 38. Bassist Brent Liles was killed in a cycling accident in Placentia, he was 44.
Mike Ness, a true survivor, carries on with Social Distortion to this day and are regulars at KROQ's "Weenie Roast" as well as other "alternative" festivals and shows.
Agent Orange & Adolescents to follow...
|