Sunday, January 04, 2009
Sunday Evening Jazz - Miles Davis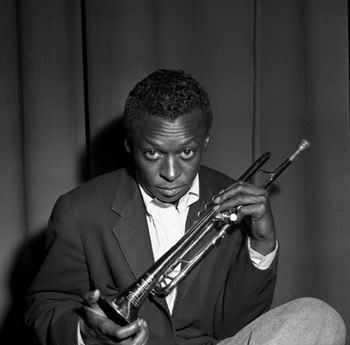 The importance of Miles Davis and his impact on jazz as an American art form as well as 20th century modern music, can not be stressed enough. Here I feature Davis with Coltrane in the early sixties followed by Davis' best band, in my opinion, from 1965. Davis also led the way in Jazz fusion with the release of Bitches Brew in 1969 and here in footage from a 1973 jazz festival. The 60 minutes interview with Harry Reasoner is pretty interesting as well.
Miles Davis with John Coltrane in gorgeous b&w from 1960/61. Great sound and footage.
So What!
This is by far my favorite period and band for Miles. 1961 - 1967, Davis' premier band was Wayne Shorter on Sax, Herbie Hancock on piano, Ron Carter on bass and wonderkid drummer Tony Williams. Mr. Smith, you should definitely like this if Hard Bop's your thing. This is really smoking, probably 1965. Great sound and footage.
Walkin'!
Miles live in Austria, November 1973. This is the epitomy of
Jazz fusion.
Great piece on Miles from a 1990 60 minutes segment a year before his death. Miles is definitely a funny and interesting
cat.
60 minutes interview
part 2
|